The Brakes eased past Curzon Ashton at the weekend before a fine 2-1 win at Brackley capped a week to remember.
And Holleran, who hit the 650 games landmark as Leamington boss at Brackley, feels it was a fully deserved double win.
"I said on Saturday it was the best we have played all season, but it was even a notch up from that at Brackley.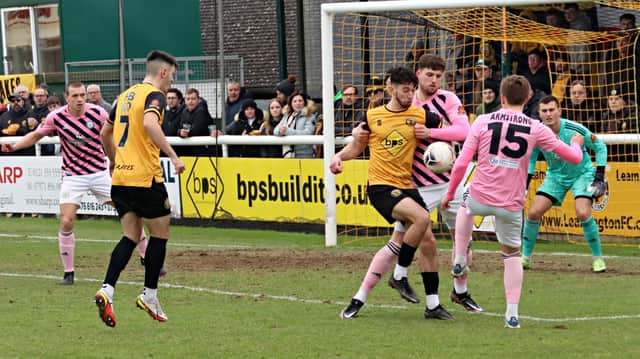 "Brackley are a good side, as the league table shows, and I'm delighted with the manner of the win.
"We looked like a really good National League North side for the first hour and I'm so pleased for the fans.
"There were another 100 fans here in good voice. They don't give up on us because we try and it was nice to get the away victory we have deserved
"There were some outstanding individual performances, It is important that we build on this week.
"We have to do it week in week out and there is enough in the changing room to put some points on the board."
It took 15 minutes for Brackley to register their first shot of the game, a tame effort from the edge of the box was easily collected by Ted Cann.
Leamington should have been ahead just before half time as Brackley failed to deal with another Liam Cross corner, the ball dropping inches past the post.
The curse of the former player came back to haunt Brackley with 10 minutes of the second half played when Adam Walker opened the scoring in fantastic style.
Liam Cross was able to add to the stunning strike category just five minutes after Walker's opener with a brilliant free-kick.
Substitute Levi Amantchi, after the first real slip up in the Brakes defence set up a tight after he beat Cann.
But the visitors held on for a deserved win to make it two wins in a week. They are now two points above the relegation zone.