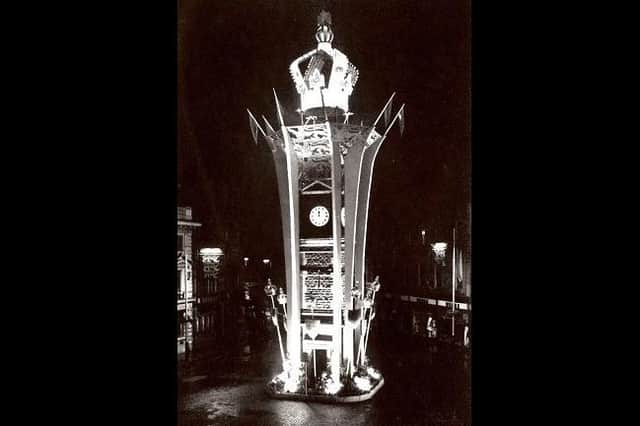 A new exhibition in Rugby is looking back at the borough's celebrations of coronations past.
Rugby's Coronations opens on Wednesday April 26 at Rugby Art Gallery and Museum, ahead of next month's coronation of King Charles III at Westminster Abbey.
The exhibition delves into the museum's social history archives to reveal how Rugby celebrated the coronations of King George VI in 1937 and Queen Elizabeth II in 1953.
Items on display include a photograph of the town's iconic Clock Tower bathed in lights and topped with a giant crown to mark the coronation of Queen Elizabeth II.
The striking tribute was designed by the then head of art at Rugby College, while engineers from the town's British Thomson Houston works installed the 800 lamps which illuminated the landmark.
Other photographs in the exhibition include a street party held in East Union Street and a coronation fancy dress contest, while Rugby's Coronations also features souvenirs presented to the borough's school children to commemorate the historic milestones.
The exhibition also includes programmes of special events staged to celebrate the crowning of George VI and Elizabeth II, with a programme from English Electric's Gala Sports Day held in 1953 and a programme from a Coronation Night Dinner Dance held at the Masonic Hall in 1937, which includes the evening's menu of 'Roast Beef of Old England' followed by a choice of suitably regal desserts - Pears Elizabeth or Margaret Rose Ices.
Rugby's Coronation also features a GEC television set bought by a local family in order to watch the coronation of Queen Elizabeth II - a television first which attracted a UK audience of 27 million.
Catherine Shanahan, Rugby Art Gallery and Museum's senior collections officer, said: "Just as Rugby residents look set to come together in Caldecott Park on Saturday May 6 to celebrate the coronation of King Charles III, so did residents in 1937 when a procession took place in the park to mark the coronation of George VI.
"Our new exhibition includes information, photographs, souvenirs and mementos to offer visitors a real coronation treat, looking back on the borough's regal history as Rugby celebrates the coronation of King Charles III."
Rugby's Coronations runs from Wednesday April 26 to Saturday September 23.