Union says staff at Warwick Hospital should not be 'forced to leave the NHS against their will'
UNISON says the staff at South Warwickshire NHS Foundation Trust are 'united in their opposition to the move'
Watch more of our videos on Shots! 
and live on Freeview channel 276
Visit Shots! now
A major union says South Warwickshire NHS Foundation Trust (SWFT) - which includes Warwick Hospital and the George Eliot Hospital NHS Trust in Nuneaton - must reconsider plans to move around 150 IT staff to a new private company, affecting their future pay and employment rights.
The employees at both trusts have been told that if they do not accept new contracts, they could lose their jobs, says the union.
After our previous story about the plans, many staff have voiced their opposition to the move, which could lead to them slipping behind Trust colleagues when any future national pay awards are agreed, and amounts to "backdoor privatisation", UNISON says.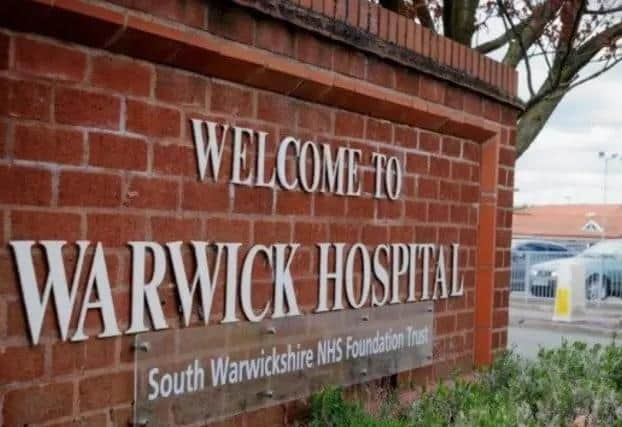 The two employers intend to move the workers to a "wholly owned subsidiary" company, created to sell IT services to other NHS organisations.
They would no longer be NHS employees, putting at risk the pay protection and rights they currently have, and the trusts could well sell the company to any private concern in the future, says UNISON.
Several trusts around England have dropped similar moves in recent months after facing opposition.
Unison West Midlands regional organiser Mike Wilson, the union's lead representative for the two trusts, said: "The employers have claimed that these dedicated IT staff lack commitment to the health service, but it's simply not true.
"These workers are just as passionate about the NHS as any member of the frontline clinical staff. They are proud to be playing their part working for the health service and want to stay.
"The creation of companies like this is simply backdoor privatisation. The pandemic has shown how much the public cherish the NHS and all the staff who to deliver its services. The last thing they want to see is for the health service to be broken up.
"Employers must rethink these plans and respect the staff's wishes to remain as NHS employees."
In response to the critcism, a spokeswoman for SWFT said the move has had the backing of staff and the board - although staff members have been in contact with us to say that the move does not have the backing of staff.
The Trust added: "At SWFT we are lucky to be in a position to work with our neighbour and fellow foundation group member, George Eliot Hospital NHS Trust.
"This close relationship helps us to overcome similar challenges and achieve a shared vision.
"Working together enables us to bring a range of skills together, share best practice and strengthen and develop our services.
"Non-clinical functions including ICT, play very important roles in supporting the delivery of NHS services so both trusts wanted to bring these functions together to work collaboratively.
"One of the options that was scoped and subsequently approved was to bring the teams together through the Trust's wholly owned subsidiary company.
"As a Foundation Trust we have a wholly owned subsidiary company which manages a range of non-clinical estates and facilities services. SWFT Clinical Services Ltd enables us to deliver essential services in a flexible approach, whilst generating profits to re-invest back into our local NHS.
"The Trust is the parent company so this model provides protection from external providers and keeps staff within the NHS family.
"Before this process started, SWFT set up another subsidiary to explore options for providing more services externally, it was never specifically intended for ICT services.
"Staff engagement was a key element to this proposal and a series sessions to gather their feedback took place at the beginning of the process.
"Staff views were reflected in the proposals that were shared with both boards. The board approved the decision to transfer ICT teams to a wholly owned subsidiary, which staff voted to name the company Innovate Healthcare Services.
"Both Trust's recognise how important these teams are to the organisations and therefore the key reason for bringing them together under a wholly owned subsidiary is to enable us to take advantage of opportunities that would not be possible otherwise.
"It will enable us to invest in our teams and infrastructure and we will also look at growing the workforce to offer services to other public sector organisations and creating new income streams, all of which would be re-invested back in to the NHS.
"As a subsidiary company staff play a big part in shaping the future of the company and its services.
"All staff will be transferred on their existing terms and conditions."