Love Changes Everything is the tune everyone knows but Aspects is a tale of passion, love, life and loss in post-war France and Italy, spanning three generations of one family.
And when the production opens at the Henry Street venue on Saturday, April 22, it will have a specific family twist to its casting – father and son duo Steve and Luke Bingham play the key roles of Uncle George and his nephew Alex.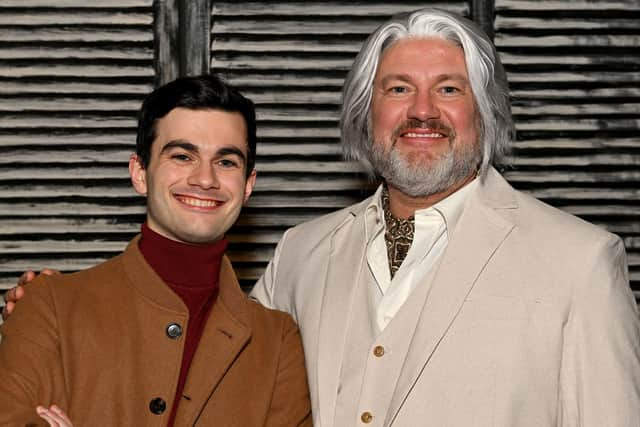 "Everyone was expecting a huge spectacle but instead he went for an almost chamber-like piece, with wonderfully evocative melodies and a love story full of surprises."
Aspects of Love begins in the south of France in the late 1940s, following 17-year-old Alex Dillingham, who becomes infatuated with an impoverished actress called Rose.
But when Alex's Uncle George returns from Italy unexpectedly, their lives – and the lives of those around them – are changed forever, resulting in a complex love polygon showing that love in all its forms really can change everything.
"Love Changes Everything is still Andrew Lloyd Webber's biggest selling single, which is astounding when you think of his canon of work.
"But the show is also full of gorgeous romantic ballads and duets that will stay in your head – every main character has at least one lovely son," David added.
The show will see a new musical director making his debut at Rugby Theatre.
Richard Dunster-Sigtermans is a former director of music at Rugby School – but he met David when the pair were volunteering at Rugby's vaccination centre during the pandemic and discovered a mutual love of musicals.
David said: "An original member of the show's 1989 West End cast once said that Aspects of Love had the best music out of all of Andrew Lloyd Webber's musicals and it's certainly the most complex.
"As a cast we've laughed, cried and had 'oh my gosh' moments at the score – but they've grabbed it and gone with it with enthusiasm.
"This show can't be done without good singers and a good musical director, and we've got them.
"A professional version of the show opens in the West End in May but here's your chance to see our version closer to home and for a fraction of the price."
The Rugby Theatre production runs from April 22-29, with ticket prices starting at £16.
They are available from the theatre box office on 01788 541234 or online via the theatre website.
A very different kind of musical experience will be up next on the Rugby Theatre stage when it brings School of Rock to town in June.