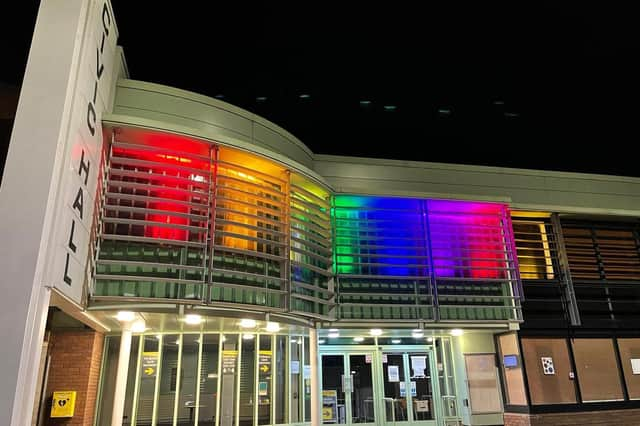 A council meeting had to be adjourned amid disruption and incendiary accusations against councillors over the future of Bedworth Civic Hall.
After the 10-minute delay, Nuneaton & Bedworth Borough Council's cabinet – the team of Conservative councillors in charge – eventually waved through the selection criteria for bodies looking to reopen the hall despite fierce criticism from the Save Bedworth Civic Hall Action Group and questions from opposition councillors.
Having been used as a Covid testing and then a vaccination centre, it was confirmed in October 2022 that council-run Bedworth Civic Hall would not be reopened.
The authority invited expressions of interest with the action group, which succeeded in registering the hall and library as assets of community value earlier this year, wishing to take on the running of the facility.
Many members of the group registered to speak at Wednesday's cabinet meeting, alleging that the council had moved the goalposts throughout the process, effectively stifling their chances against a rival bidder.
The approved criteria gives an 80 per cent weighting to the rent offered by any prospective tenant with social value and community aspects given a 20 per cent rating.
The council's report explains that the top bidder will receive a score of 80 with those offering less rent achieving a proportionately lower score – for example, offering half the rent would achieve a score of 40 – potentially rendering meaningless the social value aspects.
Members of the group claimed there had been a "reluctance to deal with the action group on a level playing field". The council was also accused of being "unhelpful, inconsistent and contradictory", as well as "generally avoiding the issues".
The group received support from Councillor Keith Kondakor (Green, Weddington) who called the bidding criteria "absolutely mad" and said the process should be paused and reconsidered.
"The people haven't been allowed in the building to see what they are buying, we don't know whether it is going to be done up or repaired before they take the lease, there is no data for them to put in a bid," he said.
"I could put in a wonderful bid to score 100 points. I could open a bicycle shop, although the building might cost £2 million, I could offer £20 per year to open it and if I was the highest bidder that would score 80 points.
"I would also score points for employing people, supporting the community. This community group could put forward the most wonderful bid, £1 a month, £1 per year, who knows, and they could provide employment, education, community stuff, and they would score maybe 16 points. That is clearly lunacy."
He added: "I don't know if this group will fail but we need to give them a chance. You are actually making it impossible for them to succeed."
Councillor Emma Shiers (Lab, Camp Hill) said the council must "ensure there is a level playing field" and suggested that the setting of the criteria should be delayed.
The blue touch paper was then lit when Councillor Brian Hammersley (Con, Bede) said Bedworth residents had questioned whether the group could make it work financially. Chair and leader of the council Councillor Kris Wilson (Con, Whitestone) acknowledged Cllr Hammersely had gone a little off-piste but struggled to restore order as the group tried to respond.
Once able to begin his address, Cllr Wilson said: "This is about ensuring whoever gets the contract is able to make it run and succeed.
"If the CIC (action group) are the ones who can make it all stack up, good luck, but surely if someone else can score better and has the proof…"
At that point, Cllr Wilson was interrupted by three different people from the gallery before endeavouring to continue.
"This is about the best deal for taxpayers and if the CIC is the best then I wish them the best," he said.
"I think there is some misunderstanding here about the weighting. Yes, there is an element of 20 per cent community, but if you don't have the finance to back it up… you cannot achieve it and I don't want to set you up to fail."
A woman from the gallery then shouted: "Excuse me, that is enough of your pathetic tone. We have had enough of your fatherly antics, talking to us like we are idiots."
When she showed no sign of stopping, Cllr Wilson adjourned.
On her way out she added: "Can you supply sick bags next time, please? Would that be possible? You know what, I'd do a better job than the lot of you, yeah. Listen to the people!"
Deputy leader Councillor Clare Golby (Con, Arbury), while joining her colleagues in temporarily vacating the chamber, told her to "get out" before turning to members of the action group to say: "If you think this is helping, it really isn't." More than one member responded by saying "she's nothing to do with us".
When the meeting resumed, Cllr Wilson moved to scotch comparisons made between spending in Nuneaton and Bedworth, saying "there is plenty of investment being directed into Bedworth", including the leisure centre.
He added that "since 1974, the civic hall has been paid for not just by Bedworth but by Bulkington and Nuneaton, too" citing losses of £845,000 per year.
He asked: "That is not sustainable – what other service would you want us to cut?"