Mixed feelings for victorious Brakes boss Holleran after a bizarre evening
Leamington are through to the last 16 of the FA Trophy - but that doesn't tell the full story after a crazy night at the Community Stadium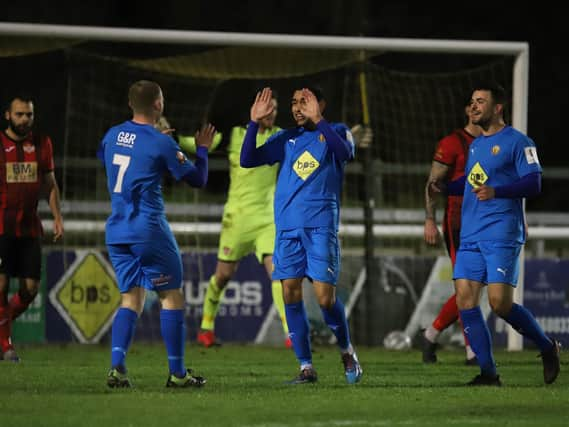 Paul Holleran was left with mixed emotions after Leamington booked themselves a place in the last 16 of the Buildbase FA Trophy after a quite bizarre fourth-round encounter with Kettering Town on Tuesday night.
First and foremost, the Brakes were deserved 3-0 winners to continue their fine run of form which has seen them beaten just once in the last 16 matches.
They scored inside the first minute thanks to Danny Waldron before headers from Jack Edwards and Jack Lane made it 3-0 inside the first half-an-hour by which time Kettering were down to 10 men after Michael McGrath was sent-off for two quickfire bookings following an ugly confrontation with referee Adrian Quelch.
But the evening descended into chaos when the floodlights at the Community Stadium failed at half-time and the two teams were left waiting for close to two hours before the power was restored.
The second half eventually kicked off at 10.30pm and, while there were no further goals, Kettering's indiscipline resulted in both Connor Kennedy and Connor Johnson being sent-off for two bookable offences.
Brakes boss Holleran, whose team will now travel to Hereford in the last 16 on February 6, was fully understandable of the Poppies' frustrations, especially as he recalled the game between the two clubs a few years ago when Kettering were leading only for the game to be abandoned due to a floodlight failure.
However, he felt they went over the top with their aggression during the second half.
"From our point of view, as a football club, it shouldn't be happening," the Brakes boss said.
"It happened four or five years ago ironically against Kettering and it's a bit embarrassing and I can understand their frustrations.
"We were all in agreement that we were going to knock it on the head but it was the FA who got involved and the game restarting at 10.30pm is difficult.
"You fully understand Kettering's frustrations but it was the FA's decision to keep it going, especially after Western Power gave us a time.
"We were 3-0 up and playing against 10 men and if I had been in their position, I'd have been heading out of the car park!
"We were quite delighted when the same thing happened to us when they were winning here a few years ago and we couldn't get Western Power out that day.
"You understand the frustration and the emotions and I understand their players being disappointed but you shouldn't be endangering the opposing players with reckless tackles, it wasn't our players' fault.
"It has left a sour end. It should have been a good game. But some strange things have gone on."
As far as the football was concerned, Holleran was pleased with what he saw from his in-form team, especially in the first half as they raced into the three-goal lead.
"We played well and we were ruthless," he added.
"I am sure their manager will look back at some of their defending around the box and be disappointed but, from our point of view, it was good.
"The Trophy has been difficult for us and we had players who were cup-tied as well as Sam Osborne leaving.
"But there were some really good performances. The depth of the squad showed, it was Dan Meredith's first game for a while and he did well.
"From a footballing perspective, we will look at the first half and that's where we need to be.
"I am happy but I am disappointed with how the evening transpired."