Not grand, just Griff: comedy star talks to the Banbury Guardian ahead of Chippy show
​Peter Ormerod speaks to Griff Rhys Jones as he brings The Cat's Pyjamas to Chipping Norton and Oxford
Griff Rhys Jones is concerned that people coming to his new show might get the wrong impression.
"It's called The Cat's Pyjamas because I loved the title," he says. "I hope people don't think it's going to be some vainglorious self promotion."
The thing is, Griff could be forgiven a bit of vaingloriousness. There was the time he helped revolutionise television comedy with Not the Nine O'Clock News, before becoming half of one of the great double acts with Mel Smith. There are the two Olivier awards he won for his acting in the West End, plus his Baftas and his Emmys. There's his work as a campaigner to save once-cherished historic sites; the travel documentaries that have opened viewers' eyes to the wonders of Africa, Canada and countless other parts of the world; the production company he founded that went on to make I'm Alan Partridge, They Think It's All Over, QI and much else besides. All that, and he introduced Queen at Live Aid, the sort of thing that most mortals would never shut up about.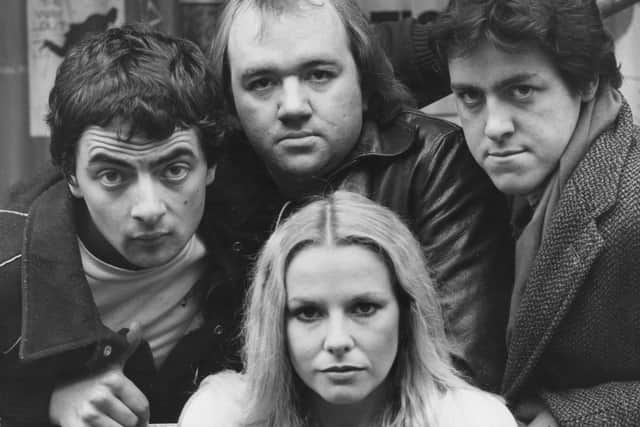 And yet Griff is far from grand. He is especially easy to talk to, he laughs readily and he has a healthy line in self effacement.
Take, for example, what he thinks is the common thread linking such a diverse career.
"Desperation! And an inability to say no. People say to me 'will you do this?' and I say 'you don't want me'. But I don't know what it is. Stephen Fry is the same. He can't say no."
Some may assume that success at the scale Griff has enjoyed comes from careful planning, plotting out paths, calculating the next steps. But no.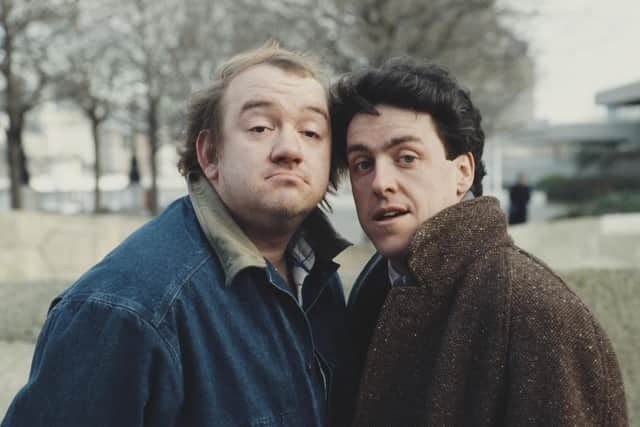 "I've never looked down. I've never planned anything. My career has been a career as in 'rolling down a hill very quickly'.
"I've known great geniuses in my life, people who have been tremendously artistically successful. I don't fit into that category. I'm sort of at home in all sorts of different fields.
"If you're a genuine artist, it's not about TV or radio – they are people who'd do it whatever happened. If you're a proper painter, you paint even if nobody's commissioning you or buying you. You can then become quite defensive and precious about what else you do, and you worry a lot about where you go.
"But most of the things I've done which have been huge successes have been semi-accidental. Someone said there are actors who choose very carefully what they did, and others who do whatever came along, and both have about the same level of hits.
"Second guessing what's going to be a success is very difficult. Having the courage to jump off the diving board is often very useful."
Griff's new show, which comes to The Theatre, Chipping Norton on Saturday May 20 and Oxford Playhouse on Saturday May 27, is neither about how great he is nor about feline nightwear. Indeed, there is no theme. He had tried themed tours before, but the idea would be dropped when a more spontaneous approach proved more popular. Audiences this time around are promised witty observations, rambling comic stories and the chance to ask Griff questions. It makes for a different show every night, following wherever his freely associating mind wanders.
There's no chance of going through the motions, then. Nor is there likely to be much nostalgia.
"I did my first radio show in 1972," he says. "I wouldn't want to hear it – I never want to go back. It fills me with trepidation.
"If you've done five decades, you've done an awful lot of s***. If you've worked as long as I have – I've always been working from one job to the next. So once I've finished one job, I'm almost immediately on to the next. So there's always been this ludicrous thing of having too many irons in the fire, but thinking 'don't worry if this doesn't work because we've already got the next one'.
"The funny thing is that it's not that they've been huge successes, but they've been moderate successes, and if you have a moderate success, you want to make another moderate success. Smith and Jones got a big audience, and because it got a big audience it would always be recommissioned. Then it got to the last five years saying 'I can't go on writing this – I haven't got any more ideas". And they'd come back and say they wanted another series. Then they call you in and say 'we've decided to get rid of you' and you go 'wow, fantastic!'.
"We did them for too long, Mel and I. We started with Not the Nine O'Clock News in '78, '79, and finished in '97. That's an awful lot of years to try to write a sketch."
Few have had quite the vantage point of Griff in surveying the radical changes in British comedy over the past 50 years. Much is made of the old guard of comics being swept away by a new breed in the 1970s. Did Griff feel like he was part of a movement?
"No no no! I was in [Cambridge University sketch troupe] Footlights, and every Footlights we were in with John Lloyd and Clive Anderson and everyone like that, we'd go on stage and the critics would say 'there's no Peter Cook or John Cleese here'.
"We were a very egalitarian, sort of early 1970s, when we went to university. It was a much more grammar school, state school world. And it's become a much more private, public school world in the last 20 years. You didn't say you went to Cambridge – you said you went to college. And so we had no expectations at all.
"The idea seems crazy. We were just lucky because there was a sort of gap in BBC radio. All the people who'd been working there after the war came up for retirement at the same time. So they had the thing that nature and the BBC abhors, which is a vacuum.
"We were working in a sort of limbo time – the variety world had died, and the comedy circuit of stand-up hadn't started. And in between was a period that was dominated by Monty Python and student comedy. And that's where we came through. It would have been surprising if we had sat down then with people like Emma Thompson and Hugh Laurie, and said they'd become international stars. That would have been an impossible ambition. You just thought 'what on earth am I going to do when I leave this?'.
"It was also a hippie era, so people didn't do what people do at university now, which is start thinking about their careers. Comedy is a career now. There was no sense of that. When I first went with the Footlights to the Edinburgh Revue, there were three comedy shows at the Fringe. There were 6,000 last year."
The whole industry that has been established around comedy gives Griff a certain sympathy for today's stars.
"It's changed so radically," he says. "The idea of a comedian filling the O2 – it would have been crazy, even for Monty Python.
"Another thing about Monty Python – this is not disparaging, this is awe – they did so little. Now, a comedian is expected to have a podcast, write several successful novels, have several alternative careers going at the same time, fill auditoria with a one-man show that changes all the time.
"Sandy Powell was still alive when I started working. He had a ventriloquist act which lasted eight minutes and that had been his entire career. He had inherited that act from his father who had done it for 50 years before him. And that's all that he did."
Griff has enjoyed as much acclaim for his work on stage as for his work on screen.
"I was always a comedy actor," he says. "I did sketches. What was strange to begin with was to go out and when we went on tour, that was an acting job. You had to be quick – there was none of the introspection that an actor wants to do, and also a freedom to drop the first idea you had an start all over again on the day of the rehearsal. If you have something to make it funnier, rewrite the material.
"I greatly admire actors I've worked with who are more concentrated than I would ever be capable of being. But nonetheless, I'm still driven by audiences – I'm a nightmare to a director because I don't know what's going to be funny until I get in front of the first preview."
Even after decades at the top, he's still living off his wits.